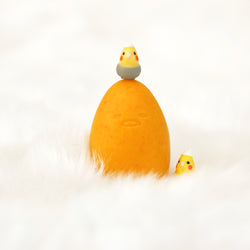 Finally, an all-in-one natural soap that works as a brush cleanser and a body soap. Our natural soap is strong enough to clean off all types of makeup, yet gentle without drying the skin. Made with sustainable ingredients from responsible sources, this soap is great for your brushes, skin and the planet! 
⇨ Infused Tea Tree essential oil: Cleans brushes and sponges with antibacterial and anti-fungal action. Keeps bacteria and germs at bay, making sure your brushes smell fresh after each wash.
⇨ Naturally coloured by Annatto oil: With its antiseptic and anti-microbial properties, A powerful antioxidant ideal for reducing the appearance of scars and calming irritated skin. 
Ingredients: Saponified oils (Coconut, Canola, Sustainably Sourced Palm), Distilled water, Annatto Oil, Tea Tree Essential Oil
A community project: Formulated by Chemical Life Science students from Singapore Polytechnic and University of Economics Ho Chi Minh (UEH), Vietnam, and individually handcrafted by Vietnamese farmers from the Cu Chi Village.
*This product is only available for shipping to the following countries: Hong Kong, Macau, Singapore, Malaysia, Thailand, Vietnam, Cambodia, Myanmar, Laos, Brunei, Philippines and Indonesia.
© 2013, 2018 SANRIO CO., LTD. MANUFACTURED BY 13RUSHES UNDER THE LICENSE OF SANRIO WAVE