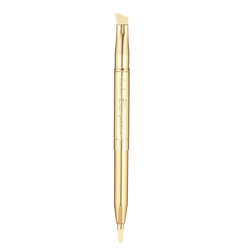 Brow.Lip.Liner - Gudetama edition
Celebrate Gudetama's 5th Anniversary with this limited edition design to our super convenient retractable duo. This brush helps you fill in your brows and lips on the go eggfortlessly!
Directions
Use the angled side to fill in your brows, or add definition along your lash line. Switch over to the tapered side to fill in your lips or lightly conceal any tiny blemishes
Use with
Brow powder, gel eyeliner, lip product
This brush is included in the GUDETAMA'S LAZY BRUSH KIT 
*This product is only available for shipping to the following countries: Hong Kong, Macau, Singapore, Malaysia, Thailand, Vietnam, Cambodia, Myanmar, Laos, Brunei, Philippines and Indonesia.
© 2013, 2018 SANRIO CO., LTD. MANUFACTURED BY 13RUSHES UNDER THE LICENSE OF SANRIO WAVE