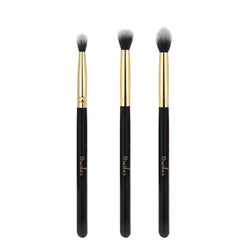 What's not to love about blending brushes? Use these to soften shadows, blend out concealers and add a light touch of powders to targeted areas of the face.
Bonus:
- Use these to contour the nose or at the eye sockets
- Lightly highlight the nose bridge with a matte powder that's 3 shades lighter than your skintone
Includes 3 eye blending brushes:

Mini Blender $18 

Our most precise blending brush for eyeshadows. Also our personal favourite! It's hard not to look like an overly blended raccoon-eyed mess when conventional blending brushes are sometimes just too big for our Asian eyes. If you ever thought you were doomed to a crease-brush-less life because of your petite hooded eyes, stop worrying because the Mini Blender is here to your rescue!

Round Blender $18 The Round Blender features a fluffy round brush head for the universal blending of eyeshadows. Its ultra fine bristles work to soften intense lines and edges. Perfect for a soft diffusion of colour.

Unlike the Fluffy Blender which tapers to a point (where eyeshadow concentrates), the Round Blender has a rounded brush head. This helps the latter achieve an edgeless seamless blend. The Round Blender is also firmer than the Fluffy Blender, making it the preferred choice for blending heavier textures.

Fluffy Blender $18 When adding the final touches to your makeup, trust that help is always there with the Illuminating Blush. Sweep on the perfect amount of product and blend to a flawless finish with this cute little fluffy blush brush. Use the tapered tip to apply highlights to anywhere you'd like to draw attention. To add on a healthy flush of colour, blend in short strokes using the flat side of the brush.