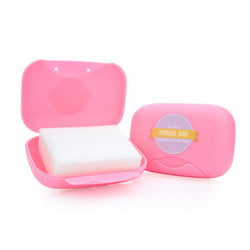 Marvel bar- Chunky Soap Bar
Perfect for routine everyday cleaning. Restore your brushes to their original luster! This heavy duty bar soap for brushes and sponges marvelously removes even the most stubborn makeup, dirt and gunk. To help you stretch your dollar, we've made this bar extra chunky so that it lasts at least a hundred washes. Enjoy endless clean brushes….FOREVER!
Directions
Simply wet the brush and work up a lather on the solid soap bar. Swirl gently over the bar soap's surface until the foam has lifted away visible impurities. Rinse the brushes and shape to dry.
Ingredients
98% Sodium Aliphatate, 2% Water.
Free from fragrance and additives, this soap can be used daily without harming your brushes.
Weight
190 grams
Made in Japan