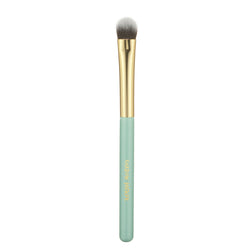 Create your eye-deal look with powders that finish pearly, sheen or matte and smoky.
Sweep eyeshadow on your eyelid for a soft wash of colour or pat to layer on for added intensity. Use this brush to apply your base colour before intensifying the look by adding depth with the Shadow Packer brush.
Use with
⇨ Eyeshadows
Dimension
Bristles length: 1.1 cm
Total length: 11.7 cm
Total weight: approx. 4 grams
Material
Bristles: Cruelty-free anti-bacterial synthetic bristles
Ferrule: Aluminium
Handle: Wood
Brush care
As with all makeup brushes, we recommend washing at least once a week. Please keep brush handles completely dry while washing to prolong the lifespan of your brushes. Store in a cool and dry place. Avoid exposure to heat sources (e.g. hairdryer).
*As all of our brushes are crafted by hand to be divinely soft and luxurious, please allow a slight variation in bristle diameter, length and weight between brushes. Using only the highest grade of textured synthetic bristles, our tools optimize product application, avoid potential allergic reactions to animal fur, and promote the use of non-animal products.