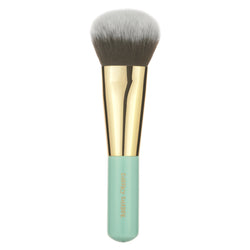 Blend, buff and contour with this cheeky multitasker!
An improved version of the 2016 Cheeky Shader, this brush is now designed with denser bristles for cream product application but still fluffy enough for powders.
Brush on a seamless bronze, create sexy contours or dust on a healthy pink flush. Use the rim of the bush to contour from the top of the cheekbones, and blend downwards in a sweeping motion, ending underneath the centre of the cheekbone. For a blushing effect, apply blusher with the flat side of the brush. Sweep the product above cheekbones towards the hairline and blend with short, vertical strokes. You could even use this as a foundation brush!
Use with
⇨ Powder blushers
⇨ Powder bronzers
⇨ Powder contouring products
⇨ Liquid/Cream foundations
  Dimension
Bristles length: approx. 2.9cm
Total length: 12.8cm
Total weight: approx. 19 grams
Material
Bristles: Cruelty-free anti-bacterial synthetic bristles
Ferrule: Aluminium
Handle: Wood
Brush care
As with all makeup brushes, we recommend washing at least once a week. Please keep brush handles completely dry while washing to prolong the lifespan of your brushes. Store in a cool and dry place. Avoid exposure to heat sources (e.g. hairdryer).
*As all of our brushes are crafted by hand to be divinely soft and luxurious, please allow a slight variation in bristle diameter, length and weight between brushes. Using only the highest grade of textured synthetic bristles, our tools optimize product application, avoid potential allergic reactions to animal fur, and promote the use of non-animal products.