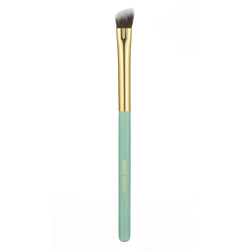 A tiny crease brush for an eye-deal look. The Crease Definer is specially designed for Asian eyes or monolids that will fit nicely into the crease. Use the angled side of the brush to smudge, shade and contour your eyes using a darker shadow colour. Always start at the point where you want the deepest colour and blend towards the place where you want the lightest colour.
Use with
⇨ Eyeshadows
Dimension
Bristles length: 1cm (highest point), 0.7cm (shortest point)
Total length: 11.4 cm
Total weight: approx. 3 grams
Material
Bristles: Cruelty-free anti-bacterial synthetic bristles
Ferrule: Aluminium
Handle: Wood
Brush care
As with all makeup brushes, we recommend washing at least once a week. Please keep brush handles completely dry while washing to prolong the lifespan of your brushes. Store in a cool and dry place. Avoid exposure to heat sources (e.g. hairdryer).
*As all of our brushes are crafted by hand to be divinely soft and luxurious, please allow a slight variation in bristle diameter, length and weight between brushes. Using only the highest grade of textured synthetic bristles, our tools optimize product application, avoid potential allergic reactions to animal fur, and promote the use of non-animal products.