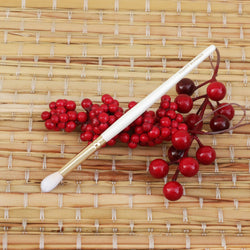 [Slightly pokey] Fluffy Blender
Issue: Bristles are slightly pokey, not soft enough, not as plush as intended.
Function: To blend eyeshadow out. Also a contouring brush for the nose. Best with powder textures.
What's good: While this brush may not be as soft and as fluffy as intended, the fluffy blender still functions well. At $8 a brush, this brush definitely won't break the bank!
No exchanges or refunds valid for sale item. An additional marking will be made over the logo as an indication that this is a sale item, and not sold under the Gudetama collection. 
Back story: This brush was originally produced under the 13rushes x Gudetama collection. However, the entire batch of eyeshadow brush did not make the cut and have been sitting in our warehouse.. it's quite a bit of a waste to simple dispose of these brushes.. so we thought of absorbing part of the cost, and putting these up as sale items. Hope you guys wouldn't mind!