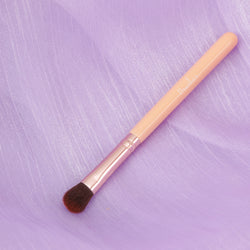 [Pokey] Resolution- Fluffy oval eye brush
Issue: Bristles are pokey, might be prickly against the skin if too much pressure is used
Functions: Sweeps eyeshadow all over the lid.
What's good: While this brush may not be as soft as intended, this brush does still its job as an eyeshadow brush.
No exchanges or refunds valid for sale item. 
Back story: This brush was originally produced under our Mindfulness brush collection. However, the entire batch of eye brushes did not make the cut and have been sitting in our warehouse.. it's quite a bit of a waste to simply dispose of these brushes.. so we thought of absorbing part of the cost, and putting these up as sale items. Hope you guys wouldn't mind!