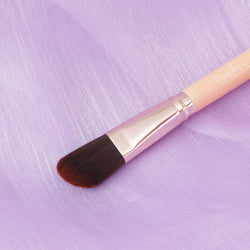 [Past collection] Conviction- Angled flat paddle brush
Issue: Past collection
Functions:
Perfects complexion with foundation
Contours nose area with matte brown sculpting powder
Spreading face mask evenly across the face
What's good: If you like to "paint" on your foundation, such flat brush would be useful! This Angled paddle brush minimises product absorption, reducing wastage.
No exchanges or refunds valid for sale item. 
Back story: This brush was originally produced under our Mindfulness brush collection in 2015. However, the entire batch of eye brushes did not make the cut and have been sitting in our warehouse.. it's quite a bit of a waste to simply dispose of these brushes.. so we thought of absorbing part of the cost, and putting these up as sale items. Hope you guys wouldn't mind!