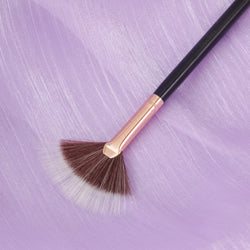 [Misshapen] Duo-Fibre Fan
Issue: Watch this video to learn about the (often reversible) problem of a misshapen fan brush
Function: 
- Lightly sweeps powders onto skin for a soft focus effect, diminishing the look of fine lines and imperfections. With its featherlight bristles, the fan brush offers a barely-there coverage.
- Turn it into a mistake eraser to gently sweep off eyeshadow fallouts or any excess powder products.
What's good:
This problem can be easily solved by dipping bristles in hot water (≈70°C) for about 30 seconds. Shape to dry. Do not blow dry with a hairdryer. Do not submerge brush in water above 100°C
Explaining the price difference:
The price difference between the pink and gold variant is due to the difference in stock level of these brushes. We have more gold defects than pink defects. 

No exchanges or refunds valid for sale item.