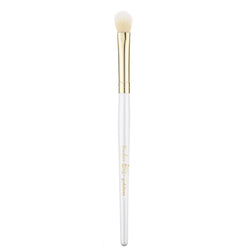 Eyeshadow . Concealer - Gudetama edition
Celebrate Gudetama's 5th Anniversary with this limited edition eyeshadow and concealer brush. The curative of the bristles fits Asian eyes perfectly!
Directions
Swipe this brush over your lids to add a wash of color all over your eyelids. Using a towel, wipe the eyeshadow pigments off your brush. Next, use the same brush to conceal those dark eye circles with your favorite concealer. Who says you can't use the same brush again?!
Use with
Eyeshadow, concealer
This brush is included in the GUDETAMA'S LAZY BRUSH KIT 
*This product is only available for shipping to the following countries: Hong Kong, Macau, Singapore, Malaysia, Thailand, Vietnam, Cambodia, Myanmar, Laos, Brunei, Philippines and Indonesia.
© 2013, 2018 SANRIO CO., LTD. MANUFACTURED BY 13RUSHES UNDER THE LICENSE OF SANRIO WAVE