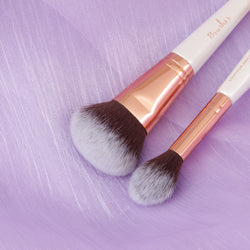 [Dents+Scratches] Contour and Highlighter Duo
Issue: Dents and scratches on the handle or ferrule of the brush
Function:
Use one side of this brush to contour your cheekbones/jawline/forehead and the other side to add a healthy glow on your cheeks. We also love how brilliantly it works as a pressed powder brush too!
Flip over this brush to meet our small fluffy tapered highlighting brush! This tapered brush is just a tad smaller than our best-selling Precision Highlighter (u.p $19). With its extra precision, you'll love how it deposits just the right amount of pigments for natural-looking results. Use the highlighting brush to illuminate the tops of cheekbones, brow bone, Cupid's bow, and chin.
Use with
⇨ Liquid and powder-based contouring makeup
⇨ Powder-based highlighters and blushers
What's good: These cosmetic defects will not affect the function of the brush. So rest assured that these are good quality brushes at a steal. 
No exchanges or refunds valid for sale item.